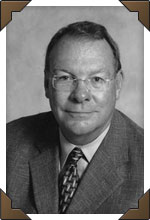 John Noe (pronounced "No-ee") is president of the Prophecy Reformation Institute, a conservative, evangelical scholar, and a member of the Evangelical Theological Society. He holds an earned Ph.D. in Theology from Trinity Theological Seminary and the University of Liverpool ("With Distinction"). He's the author of seven other trade-published books: The Perfect Ending for the World, Hell Yes / Hell No, Off Target, The Greater Jesus, Unraveling the End, People Power, and Peak Performance Principles for High Achievers. John is also a screenwriter, an award-winning entrepreneur, and a past 20-year member of the National Speakers Association. He's been featured on numerous TV and radio programs including CNN's Larry King Live and CBN's 700 Club, has climbed mountains around the world, and lives in Indianapolis with his wife, Cindy, a state representative. They have two grown children and thirteen grandchildren..
Our Mission
Welcome to PRI's website. We trust you will find its contents not only stimulating and challenging but unique and rewarding. Be assured, we hold to a high view of Scripture but to a low view of what we Christians over the centuries have done to it and to the practice of our own faith in the process.
Most of the contents herein are derived from the books, writings, and theological papers of Dr. John Noe. He is an ardent student of God's Word and a passionate seeker of truth, He holds an earned Ph.D. in Theology, has been a member of the Evangelical Theological Society since 1994, and is the author of several trade-published books.
As you proceed through this website, we encourage you to "test everything. Hold onto the good" (1 Thessalonians 5:21). If you agree, will you join us in helping to pioneer the next reformation of Christianity? If you disagree, please show us, in a civil manner and from the Scriptures, where we are in error. We have no desire to be in error in any way. Thank you and enjoy!